In the past, I have posted articles on IAB on this subject of
forced sterilization programs going on in Europe
. In essence, if a transgender person were to do something as simple as changing their own name or gender on a government-issued document it could lead them to be forcibly sterilized by their government.
Although some countries in Europe had taken it upon themselves to end their own forced sterilization programs as Germany did in 2011, Sweden in 2012, Norway in 2014, and France in 2016, many countries in Europe were fine continuing the process such as Switzerland and Finland. Yet just last month the European Court of Human Rights finally ended forced sterilizations going on in some 2 dozen European countries against transgendered people. The European Court of Human Rights, in the French city of Strasbourg, ruled that the sterilization requirement was a violation of Article Eight of the
European Convention on Human Rights
, which states "everyone has the right to respect for his private and family life, his home and his correspondence."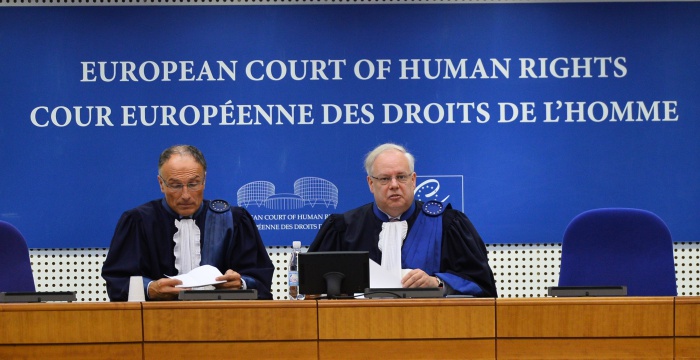 The case was filed by three French citizens, identified in
the ruling
as Émile Garçon, Stéphane Nicot and by the initials A.P., and the decision is legally binding only in France, where the issue has already been settled by legislative action: Last October it did away with the sterilization requirement and adopted revised procedures for legally changing a name and gender.
This was seen by many as an important milestone in human rights. "The European Court of Human Rights is very much respected in Europe and we can expect that in the majority of countries where this issue comes up, this ruling will be respected as the new precedent,"
said Richard Köhler
, the senior policy officer at Transgender Europe. He said the first impacts of the decision may be seen in upcoming court cases in Bulgaria and Macedonia.
Yet despite a positive ruling for LGBTQ rights, it's not a total victory. The court didn't find requirements for transgender people to get mental health diagnoses or medical examinations before legally changing their gender (also common across Europe) to be in violation of human rights.
The other problem is that
the ruling does not mean
immediate legal change in any of the countries, and none of them have so far changed their laws. The court does not possess a strong enforcement mechanism that can make lawmakers pass new legislation, and activists cautioned that it may take several more court cases before legal change comes to individual countries.
Sterilization procedures take many forms in the countries where it still remains a requirement, said Kyle Knight, a researcher in the lesbian, gay, bisexual and transgender rights division at Human Rights Watch. He said some countries mandate the surgical removal of genitalia and reproductive organs while other requirements more vaguely call for procedures that produce "irreversible infertility."
In the United States, requirements for legally changing one's name and gender on official documents vary from state to state, said Arli Christian, a state policy counsel at the National Center for Transgender Equality. No proof of gender reassignment surgery is needed to change federally issued documents like a passport, but 23 states require proof of surgery before they allow someone to change state-issued documents like a birth certificate.