Two years after the "little green men" stormed into Crimea and eventually led to the area's annexation, reports are still continuing that Russians are kidnapping and torturing civilians, activists and journalist. 

Crimean Taras, who have lived in the area centuries before it was settled by either Russians or Ukrainians claim they are being pushed out and silenced by authorities there. Since the annexation Russian authorities have since passed laws that make it illegal to dispute Russia's claim on Crimea on charges of "separatism." These laws have been made enforceable to offenses that even happened when Crimea was still under Ukrainian control. Therefore making it so that if anyone at anytime did not feel Russia had a claim to Crimea, they can be legally imprisoned. 


Ilmi Umerov, the former Mayor of Bakhchisarai, had stepped down after the Russian invasion saying that he could not serve an occupying regime. In August he was arrested and brought to trial on charges of "separatism."
In a telephone interview with The Guardian
, he said "They have already realized that they can't get Crimean Tatars to love the authorities, so instead the task now is to silence them. If they are scared, they won't speak, they won't voice their grievances, and they won't shout that Crimea is Ukraine."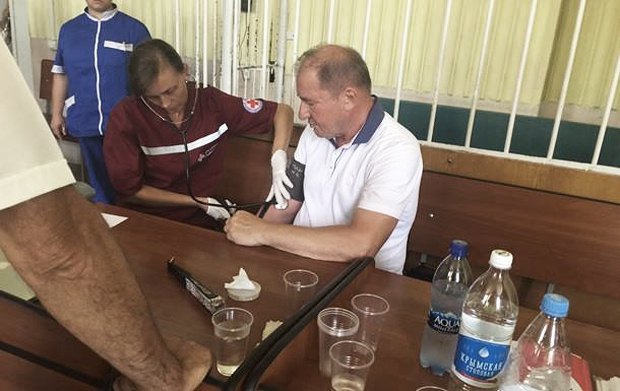 Umerov was transported to Crimea's capital, Simferopol, and ordered to undergo a psychiatric evaluation. That psychiatric evaluation consisted of him being locked up in a psychiatry ward for three weeks. Tanya Cooper, of the organisation Human Rights Watch, said it was "a shameful attempt to use psychiatry to silence him and tarnish his reputation, a popular practice against dissidents in the Soviet Union." Human Rights Watch was one of the first organisations who's observers first began reporting on the kidnappings and tortures in Crimea by the Russians.
Krasimir Yankov of Amnesty International said "The Crimean Tatars are not the only people being repressed in Crimea, but the reason they feature so prominently is because
they are the only remaining compact population
which is still not loyal to the Russians, and the only ones who are there to voice their opposition and their dissent."
Most though are not even being brought to trial, some activists like Ervin Ibragimov, who was caught on security camera's being pushed into police car (
see the video here
), are never to be seen or heard of again.  Crimea's chief prosecutor, Natalia Poklonskaya, said that people probably simply dressed up like police to cause disorder. Yet when Ibragimov's parents became worried when he didn't return home, the police refused to even let them even fill out a report. 
A few though, who were kidnapped, have been recently discovered in Russia having been severely tortured and facing show trails. Yevhen Panov and Andriy Zakhtei are two such cases. No one in Crimea knew what had happened to them until they appeared on Russian state-controlled TV in Moscow reading confessions written by the Russian Federal Security Service.
They weren't even allowed to see their lawyer
until, the European Court of Human Rights forced Russia to dispense the information surrounding the injuries they were seen on television with. 
Panov's lawyer has stated that his client was tortured for days via beatings with metal pipes and electrodes connected to his genitals before he gave the only piece of incriminating evidence in his case, his televised confession.
Since the Russian takeover, every single independent media outlet in Crimea has been shut down. Former journalist such as Anna Andriyevska, Anna Shaidurova, and Natalya Kokorina and even civilian bloggers like Yuriy Ilchenko are being arrested, interogated, and tried for "separatism" for such acts as r
eporting on video's the Russians made
of them killing their POW's in the village Krasny Partizan.
Yet it gets darker, Russia has been sending neo-Nazi mercenaries into Ukraine in order to provoke violent reactions from pro-Ukrainian activist. Alexey Milchakov is one such mercenary, Alexey got his start in 2011 when he began posting video's online of him torturing puppies, by disemboweling and skinning them alive.

He was then recruited and trained by a Russian backed neo-Nazi terrorist organization that Russia has used to stir up violence called the "Rusich." Once in Ukraine he began posting videos and pictures on twitter of him torturing and killing Ukrainian civilians and military in horrific ways. This is some of his handy work, and believe it or not they are by far not the most gruesome that he 
posted.


Twitter quickly deleted his account but not before his actions against the Ukrainians were twisted by Russian media outlets to make him a beloved star in Russia. Even so much that he received a metal from Sergey Aksyonov, Putin's aid and the head of the Russian occupation administration in Crimea. (
http://eotperm.ru/?p=4961
) and began giving interviews for Russian state-controlled TV outlets like Russia's Life News channel to talk about his heroism.
Currently, Alexey Milchakov is currently back in Russia commanding
a pro-Nazi military training cam
p designed to teach Belarusians neo-nazi ideals and military methods. This has unnerved many in the international community as it means Belarus might be Russia's next target for annexation. Many fear that Moscow might exploit these mercenaries against Minsk by claiming there are "
extreme Belarusian nationalists
" that the Russians must intervene to put down, just as they did in Ukraine.
These fears would not be unfounded, as Russia has been increasing the price for gas and oil to Belarus. To the point now where Belarus has fallen in massive debt to Russia, it's main gas and oil supplier, is relying on it's reserves to simply function, and is making advanced payments to Russia for gas
it has not received yet as "a gesture of goodwill.
"
This is reminiscent of the gas conflicts that Ukraine and Russia had until the gas was finally turned off around the time of the Crimean Crisis. Now all this alone is worrying enough, yet two weeks ago the Russian Ministry of Defence disclosed upcoming logistical data of railway traffic to other countries. In it, it showed that Russia is planning on drastically increase the amount of military cargo and Russian troops headed for Belarus in 2017.
A sign that Moscow may be planning an invasion force.
Officials in Russia are claiming that it is for the "Zapad/ West" joint strategic military exercises taking place next September. Yet a look at the previous years when the military exercises took place shows this is still way larger, 20 times more than any single previous exercises and 83 times more than Belarus receive in this whole year.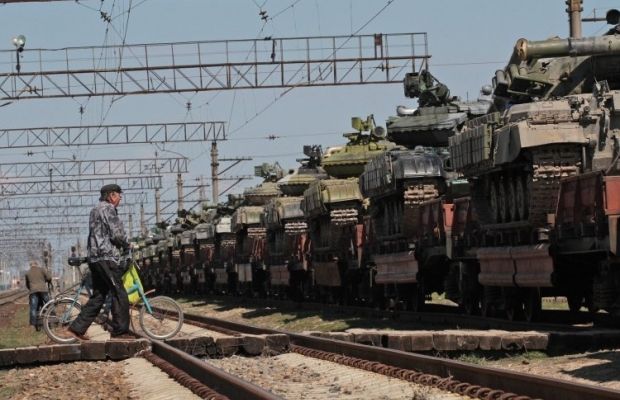 No one has a crystal ball or can claim without uncertainty what awaits in the future. Yet Putin has time and again shown that he wants to put direct pressure on NATO and is willing to invade other countries to do it. We should all take note, for "those who do not learn from history are doomed to repeat it."