GTFO






Peter, NO!






Vacuum






Reverse NOM






You can"t do that with a man you just met






Up you go!






Let me fix your door, bro!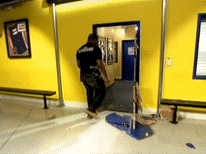 Heavy baby






Butt Jedi






What a bunch of jerks






Glaze-remover... Nooooooooo!!!






Supernatural






Majestically graceful swing set mount






He seems into it...






Stingy Aladin






Cotton Candy Man-chine






Let me get that for you, bro!






Stair climbing with style






Here"s the pizza you ordered!






Magical bat mending beard






Wheee! Let"s tumble and play!






Harruuumph!






Where is he putting the kitty?!






Call the Glass Doctor he"ll fix your Panes!






Ti htiw leaD!


Context is everything! So when it is bass ackwards it gets funny, or strange, or both, you decide.